Today, two of my favorite blogs, Paisley Lizard and Earrings Everyday, posted about their polymer clay pods. Seeing the wonderful shapes, textures, and colors of these pods got me to thinking about how often the pod shape is used in polymer and how it can be a perfect little project for an artist to express or develop their vision. You can make a polymer clay pod in any color, with any mood, and in a variety of original organic shapes. The pods themselves can be used as beads in a necklace, as earring dangles, as a headpin, or even just as something that you collect in a bowl and enjoy holding in your hand. Some artists are interested in the shape of the pod itself, others are merely using the pod shape to carry the surface textures and designs. Yet others see the pod as a mere component in the creation of a larger, more complex work. Here are some of my favorite polymer clay pod images from artists all over the world.
Polymer Clay Seed Pods
Tammy Adams of Paisley Lizard made a whole slew of polymer clay seed pods for a design challenge and then turned them into earrings. She used her own sculpting and in one case a mold she made from some maple seeds to create these lovely polymer clay pods. So cool. You can see a lot more on her blog post, too. Tammy has listed some of these earrings in her Etsy shop as well.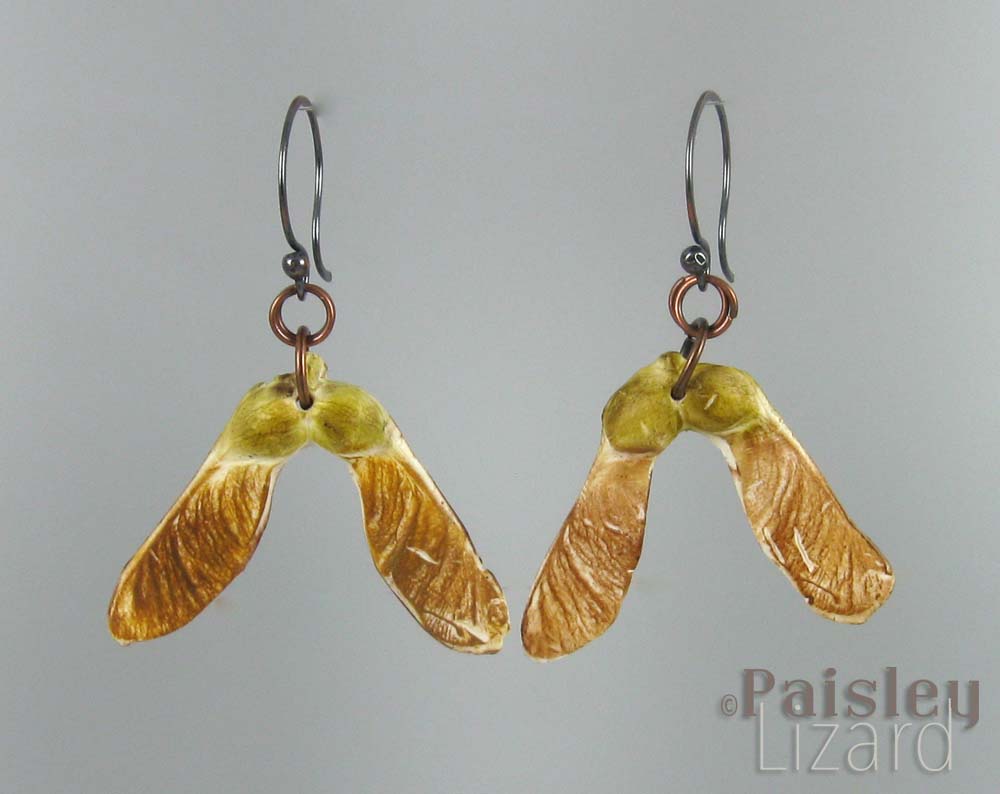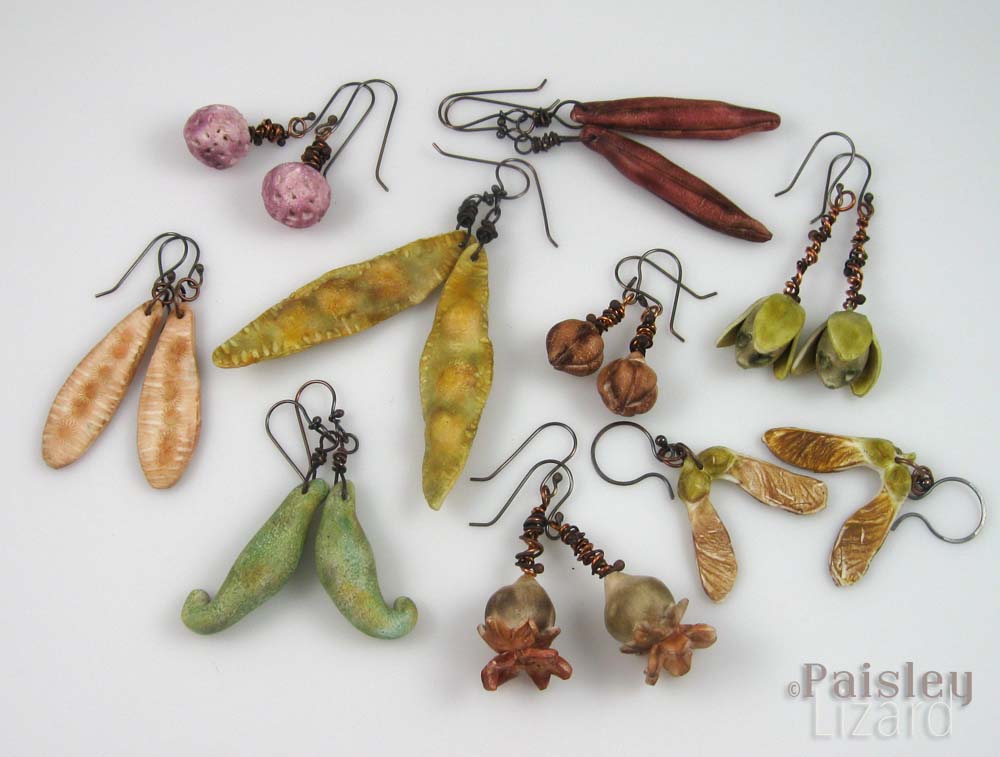 The host of the same challenge that Tammy joined also chose to make seed pods for her entry. In the Earrings Everyday blog, Erin Prais-Hintz showed us a lovely array or organic pod shapes all perfectly executed in polymer clay. Have a look at the shapes of these lovely organic pod headpins. Erin says that she hasn't created the color on them yet, so the picture is in black and white to showcase the shapes. You can see more of Erin's work in her shop Tresori Trovati.
Hollow Pods by Claire Maunsell
Unlike any seed ever grown in nature, the hollow polymer clay pods that Claire Maunsell creates are a true sensory delight. While Claire does enjoy playing with shape and form, what really stands out in her pod work is the rich, deep, and mysterious textures and colors. She uses many layers of color, building one upon the next until the effect is "just right". She's told me that doing surface work on a hollow pod is actually easier because the shape will take texture without flattening the pod shape, unlike what can happen when texturing a solid mass of raw polymer. Here are a few of Claire's polymer clay pods.
You can learn from Claire online here, and she does teach workshops around the world if you're lucky enough to match schedules with her. You can see more of her incredibly gorgeous work on her Flickr photostream here.
Polymer Clay Pods by Selena Wells
Selena Wells makes polymer clay work with an ancient feel. Like there is a story deep within, from a time long ago. She says of her work, "I make things I wish I could find– things that should already exist but somehow don't." Yes, that's it. Exactly. These polymer clay pods rely on texture, but also shape, with dots, stripes, and caps. Selena's work can be seen on her Flickr photostream here, and you can find her work on Etsy as well.
More Polymer Clay Pods
Ginger's Pods
Yes, I've even created a few pods of my own. It's such a great shape that works well for so many things. I might just have to make more soon.
Make Your Own Pods
Staci Louise Smith creates beautiful work, including pods. I interviewed Staci recently and you can see her work in that article. She's another "pod person"!
As you can see in this post, there are lots of ways to make polymer clay pods. My two tutorials listed here are just a small sampling of all the ways that you can color and finish the pods that you create. Start looking around and noticing all the ways that artists use the general pod shape to create beautiful creations in polymer clay.

Email is the best way
to get updates
You will LOVE getting this email, which is packed full of polymer clay goodness. About once a week.